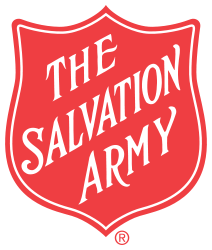 The Salvation Army Kettle with the recognizable red shield next to a Salvation Army volunteer ringing the bell and soliciting donations is a familiar site during Christmas season.
Salvation Army is an international evangelical church and one of the world's most significant non-governmental relief agencies. Its headquarters are in London, England. With a governance system of its own and a practice that slightly deviates from the mainstream doctrine of the church, the Salvation Army is well-known for its relief and charity work across the world.
The Salvation Army is one of the first NGOs to arrive at affected sites after natural or man-made disasters. Over the years, the organization has helped countless individuals rebuild their lives after devastating events and alleviate their suffering.
The Salvation Army was established by William Booth, a Methodist preacher and his wife Catherine Booth in 1865 in London, England. Their intent and mission were to bring salvation to the poor and downtrodden people and to meet their physical and spiritual needs.
Interestingly, Salvation Army's ministers are called the "officers." Officers' ranks include lieutenant, captain, major, colonel and the general. They wear uniform type clothing. Women are given equal right within the church and, in fact, be ordained. Officers are allowed to be married. Husbands and wives often share the same rank and carry out the same assignments.
In 1879, the first meeting of the Salvation Army took place in Philadelphia. The Salvation Army established a strong presence in the United States after being officially welcomed by the White House in 1886 for their extraordinary charitable efforts.
Salvation Army is currently present in 131 countries. As when it was first established, its goals still are to advance the Christian religion, relieve poverty, help the needy and be munificent to mankind as a whole. As such, Salvation Army operates homeless shelters, runs thrift and charity shops, responds with disaster relief and provides humanitarian aid to developing countries.
About The Author:
The author of this article Amita Vadlamudi is a former Information Technology Professional. After her retirement, Amita Vadlamudi has been spending her time volunteering and blogging about charitable causes.